Verbs:Werden
The verb werden is irregular in the present tense. Like many other irregular verbs, it changes the stem vowel in the second and third person singular forms (du and er/sie/es).
werden

•

to become

ich

werde

wir

werden

du

wirst

ihr

werdet

er/sie/es

wird

sie

werden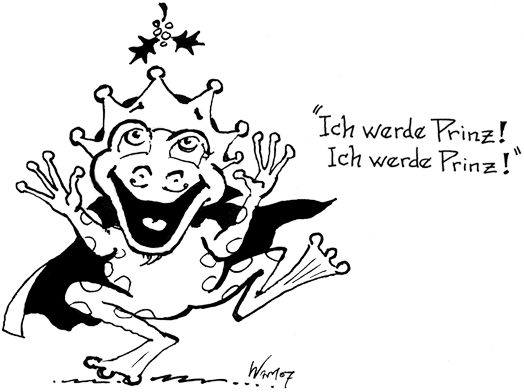 der Froschkönig
Ich

werde

Prinz! Ich

werde

Prinz!
I am becoming a prince! I am becoming a prince!
der alte König
Wie

wirst

du Prinz? Wer will dich küssen?
How are you becoming a prince? Who wants to kiss you?
der Froschkönig
Aha! Es ist fast Weihnachten, und in meinem Englischkurs haben wir gelernt, dass man unter dem Mistelzweig küssen muss. Und wie man weiß,

wird

der Frosch zum Prinzen, wenn eine Prinzessin ihn küsst.
Aha! It's almost Christmas, and in my English course we learned that you have to kiss under the mistletoe. And as you know, when a princess kisses a frog, the frog becomes a prince.
der alte König
Mein Freund, du musst dich mit deinem Froschsein ernsthaft auseinandersetzen. Sonst

wirst

du nie glücklich!
My friend, you really need to get over your frog-ness. Otherwise you can never become happy!
der Froschkönig
Ich gebe nie auf!
I am never giving up!
In the above examples the verb werden is the main verb of the sentence. It can also act as an auxiliary verb, however, when it helps form the future tense.
Beware the false cognate: Unlike in English, where become means to turn into something (and in this sense it is synonymous with the verb get, as in get sick), in German only the verb werden indicates a change in personal state.
Bekommen means to receive, get (e.g. get a present) but never to turn into something (i.e., Der Froschkönig bekommt einen Prinzen means that he gets a prince for his birthday, but this present would not solve his existential problem. In truth, er will wieder Prinz werden: he wants to become a prince again).
Helpful hint: in a dictionary, irregular verbs are marked as irreg. They are usually listed in the back of the dictionary, with their irregular forms (some verbs are irregular in the past tense, but not in the present tense, etc.).
| | |
| --- | --- |
| die Würde | dignitiy, worth, rank |
| würdelos | undignified, disgraceful |
| würdevoll | dignified, with dignity |
| der Würdenträger | dignitary |
| würdigen | to recognize, appreciate |
das kann aber nett werden

this could get ugly

daraus kann man gar nicht klug werden

this makes no sense at all

jetzt wird's aber Tag

!
what the heck?

was soll aus dir werden

?
what is to become of you?

aus Liebe wird Hass

love turns into hate