Verbs:Präsens - Untrennbare Verben
One facet of verbs is that they can be preceded by prefixes, small units of language that somehow modify or enhance the meaning of basic verbs. Although there are some patterns as to how these prefixes affect the verbs' meaning, for the most part you just need to learn the individual verbs.
The inseparable prefixes stay connected with the verb at all times: be-, emp-, ent-, er-, ge-, ver- and zer-.
If it helps you, think of the prefix and the verb as connected but separate entities: the main part of the verb (without the prefix) is conjugated the same way as the original verb.
come
receive
escape

kommen

ich

komme


du

kommst


er/sie/es

kommt



wir

kommen


ihr

kommt


sie

kommen

ich

bekomme


du

bekommst


er/sie/es

bekommt



wir

bekommen


ihr

bekommt


sie

bekommen

ich

entkomme


du

entkommst


er/sie/es

entkommt



wir

entkommen


ihr entkommt
sie

entkommen

speak, talk
discuss
promise

sprechen

ich

spreche


du

sprichst


er/sie/es

spricht



wir

sprechen


ihr

sprecht


sie

sprechen

ich

bespreche


du

besprichst


er/sie/es

bespricht



wir

besprechen


ihr

besprecht


sie

besprechen

ich

verspreche


du

versprichst


er/sie/es

verspricht



wir

versprechen


ihr versprecht
sie

versprechen
Aschenputtels Stiefmutter

erlaubt

ihr nicht, auf den Ball zu gehen.
Cinderella's stepmother doesn't allow her to go to the ball.
Aschenputtel

versteht

nicht, warum sie nicht gehen darf. Sie ist sehr traurig.
Cinderella doesn't understand why she is not allowed to go. She is very sad.
Aber von einem weißen Vogel am Grab von ihrer Mutter

bekommt

sie ein Kleid aus Gold und Silber und

erscheint

vor dem Prinzen.
But she receives a beautiful dress made of silver and gold from a white bird at her mother's tomb, and she appears in front of the prince.
Ihre Stiefmutter und ihre Stiefschwestern

erkennen

sie in ihrem wunderschönen Kleid natürlich nicht!
Her stepmother and stepsisters of course don't recognize her in her beautiful dress!
Der Prinz

erblickt

Aschenputtel und

verliebt

sich sofort in sie.
The prince sees Cinderella and falls in love with her in a second.
Der Prinz

verspricht

, dass er die schönste Frau auf dem Ball heiratet.
The prince promises that he will marry the most beautiful woman at the ball.
Aschenputtel findet ihn oberflächlich und

entflieht

dem Prinzen ...
Cinderella finds him superficial and runs away from the prince ...
Leider ist dies ein Märchen aus dem 19. Jahrhundert und Aschenputtel

erträgt

dieses 'Happy End' wegen der historischen Genauigkeit.
Unfortunately, this is a fairy tale from the 19th century, and Cinderella endures this 'happy end' for the sake of historical accuracy.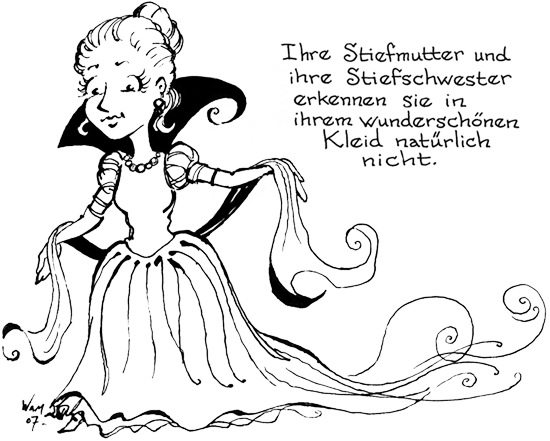 Below are the most commonly used inseparable prefix verbs with their English equivalents. The first column offers some general meanings associated with the prefixes, but these are only tendencies, not set rules.
be

-
often makes a verb transitive (allows it to take on a direct object)


be

ginnen*


be

halten


be

kommen


be

sprechen


be

antworten


be

freien


be

schließen
begin, start* [there is no 'ginnen']
keep
get, receive
discuss
answer (a question)
free, liberate
decide

emp

-
same as

ent

-, used with verbs that begin with 'f'

emp

fehlen


emp

finden


emp

fangen
recommend
feel
receive, welcome

ent

-
seems to add the meaning of 'away'/'de-'


ent

fernen


ent

giften


ent

kommen


ent

kräften


ent

lassen


ent

laufen


ent

mutigen


ent

scheiden


ent

schließen


ent

setzen


ent

spannen (sich)


ent

sprechen


ent

stehen


ent

täuschen


ent

wickeln (zu)
remove
decontaminate (remove poison)
escape
weaken
relieve, let go
run away from
discourage
decide
decide, determine
horrify
relax
match, correspond to
arise, develop
disappoint
develop, turn (into)

er

-
suggests that the original action is completed, finished

er

blicken


er

fahren


er

finden


er

füllen


er

gänzen


er

innern (sich an)*


er

kälten (sich)


er

kennen


er

klären


er

lauben


er

leben


er

ledigen


er

nähren


er

pressen


er

schießen


er

schrecken


er

setzen


er

tragen


er

tränken


er

warten


er

zählen


er

ziehen
catch sight of
hear, learn, experience
invent
fulfill
complete, supplement
remember [there is no original 'innern']
catch a cold
recognize
explain
permit
experience
arrange, take care of
feed, nourish
blackmail, extort
shoot (dead)
scare, frighten
replace
bear, endure
drown (someone)
expect
tell a story
raise, bring up

ge

-
gebrauchen


ge

fallen (es gefällt mir)


ge

hören (es gehört mir)


ge

lingen


ge

nießen


ge

schehen


ge

stalten


ge

winnen


ge

wöhnen
use
please (i.e., it pleases me = I like it)
belong to (it belongs to me)
succeed
enjoy
happen
arrange (e.g., exhibit), set up, design
win
get used to

ver

-

ver

abreden


ver

ändern


ver

bessern


ver

brechen


ver

bringen (Zeit)


ver

dienen


ver

einigen


ver

fälschen


ver

filmen


ver

geben


ver

gessen


ver

gleichen


ver

gnügen


ver

größern


ver

hindern


ver

kleinern


ver

lassen


ver

letzen


ver

lieren


ver

meiden


ver

schreiben


ver

schwenden


ver

schwinden


ver

sichern


ver

späten (sich)


ver

stehen


ver

suchen


ver

trauen (+ dativ)


ver

wöhnen


ver

zeihen
agree on (e.g., a date, appointment)
change
improve
commit a crime
spend (time)
earn
unite
falsify
record on film
forgive
forget
compare
enjoy
enlarge
prevent (put obstacles in front of)
reduce in size
leave, abandon
harm, injure
lose
avoid
prescribe
waste (money, time, resources)
disappear
insure
be late
understand
try, attempt
trust
spoil (e.g., a child, a prince...)
forgive, excuse, pardon

zer

-

zer

fallen


zer

kratzen


zer

schlagen


zer

springen


zer

stören
fall apart, decay
scratch up, tear apart with claws
smash up
jump apart
disturb