Verbs:Geben
The verb geben has two frequently used meanings. In the most general terms, it means 'to give' but it also is used for the equivalent of the English term: 'there is/there are.'

1. geben • to give
geben

•

to give

ich

gebe

wir

geben

du

gibst

ihr

gebt

er/sie/es

gibt

sie

geben
Der Prinz
Schneewittchen, ich

gebe

dir meine ganze Liebe, mein ganzes Leben!
Snow White, I give you all my love, my entire life!
Schneewittchen
Sei nicht so melodramatisch, Thilo, du

gibst

jungen Männern schlechte Ideen!
Don't be so melodramatic, Thilo. You give young men bad ideas!
Der Prinz
Okay, okay, aber wir

geben

zumindest ein Fest zu unserer Hochzeit, oder?
Okay, okay, but at least we'll give a dinner party for our wedding, right?
Schneewittchen
Nein, Liebling, dein Papa

gibt

ein Fest für uns und für alle Bewohner des Schlosses.
No, darling, your dad is giving us a party and for all the residents of the castle.
Related words
| | |
| --- | --- |
| die Gabe | the talent, gift |
| die Aufgabe | task, assignment |
| weggeben | give away (present) |
| ausgeben | spend (money) |
| abgeben | hand in (e.g., homework), emit (e.g., radio) |
Fun phrases
Gib darauf nichts

!
Don't mind that!

Ich gebe dir ein Beispiel

I'll give you an example

Was gibt's Neues

?
What' s up? what's new?

Er gibt uns bestimmt grünes Licht

!
He'll definitely give us the go-ahead

Du hast immer das letzte Wort

!
You always have to have the last word!
...

Ein Wort gab das andere

One word led to another [and soon they were fighting]

2. geben • there is/there are
Although in English the expression 'there is/there are' matches the number of subjects (e.g., There are seven dwarves but There is only one Snow White), in German only the phrase es gibt is used, whether we are talking about only one or many people or things. Whatever follows es gibt is in the accusative case in German.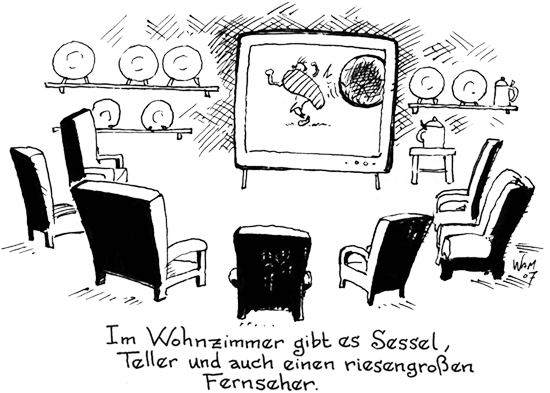 Im Haus

gibt es

7 Schlafzimmer

.
There are

7 bedrooms

in the house.
In jedem Zimmer

gibt es

ein Bettchen

.
In each room there is

a small bed

.
Im Wohnzimmer

gibt es

Sessel, Teller und auch einen riesengroßen Fernseher

.
In the living room there are

arm chairs, plates and also a giant TV

.

Es gibt

keine

größeren Schalke 04

Fanatiker

als die 7 Zwerge!
There aren't

any

greater Schalke 04

fans

than the 7 dwarves!