Verbs:Lesen
The verb lesen is irregular in the present tense. Like many other irregular verbs, it changes the stem vowel in the second and third person singular forms (du and er/sie/es).
lesen

•

to read

ich

lese

wir

lesen

du

liest

ihr

lest

er/sie/es

liest

sie

lesen
der alte König
Was

liest

du, Froschkönig?
What are you reading, Frog King?
der Froschkönig
Ich

lese

einen Roman. Er geht um einen verzauberten Prinzen ...
I am reading a novel. It's about a prince under a spell ...
der alte König
(murmelt vor sich)
Ach, er

liest

wieder die Geschichte! (laut:) Mannomann, gehen wir lieber einkaufen!
Aha, he's reading that story again! (out loud:) Man, let's go shopping instead!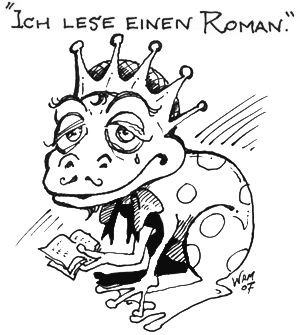 Helpful hint: in a dictionary, irregular verbs are marked as irreg. They are usually listed in the back of the dictionary, with their irregular forms (some verbs are irregular in the past tense, but not in the present tense, etc.).
related words

aus der Hand lesen

tell a fortune

lesenswert

worth reading

die Leseratte

bookworm

die Leserzahl

circulation
fun phrases

Wenn ich nur deine Gedanken lesen könnte

!
If only I could read your mind!

Ich musste zwischen den Zeilen lesen.

I had to read between the lines.