Conjunctions:Fragen
There are two ways to ask a question, depending on the type of information you need. Whereas a yes/no question is only interested in an either-or answer, the so-called w-questions require a more comprehensive answer (unless they are rhetorical questions, of course ...) as the following top-ten list of stupidest ... ahem ... most fateful fairy tale questions ever asked illustrate!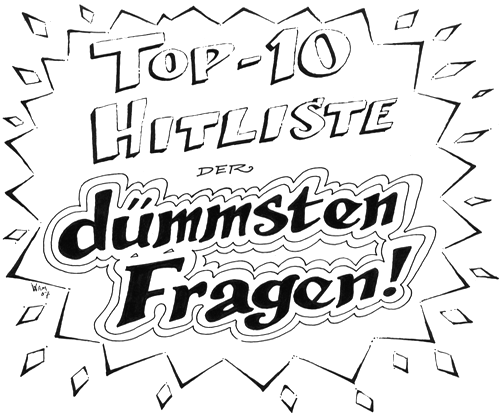 10.
der Vater von Hänsel und Gretel

Was

soll aus uns werden?
What should become of us?
9.
die Grossmutter

Wer

ist das vor der Tür?
Who is that at the door?
8.
Esel

Woher

kann das Licht kommen?
Where could that light be coming from?
7.
die Stiefschwester

Wieso

bist du mit Gold bedeckt?
Why are you covered in gold?
6.
der Prinz

Wessen

Schuh ist das?
Whose shoe is that?
5.
Rotkäppchen
Großmutter,

warum

hast du so große Augen?
Why are your eyes so big, Grandmother?
4.
der Wolf

Wohin, wohin

kleines Mädchen?
Where to, where to little girl?
3.
die böse Königin

Wer

ist die Schönste im ganzen Land?
Who is the prettiest of all?
2.
Dornröschens Vater

Wieviele

Teller haben wir nochmal? Nur 12?
How many plates do we have? Only 12?
1.
Rapunzel

Wie

kommt das, Frau Grotel, dass der Königssohn so viel leichter ist als Sie?
How come, Frau Grotel, that the prince is so much lighter than you?

W-question words
The question word in German is at the beginning (they are called W-words because they all start with the letter w], followed by the conjugated verb in second position whether that conjugated verb is a modal verb (e.g., können, sollen) or an auxiliary verb (e.g., hätte, ist, werde).
| | | | | |
| --- | --- | --- | --- | --- |
| Wann? | When? | | Wie lange? | How long? |
| Warum? | Why? | | Wie viele? | How many? (count nouns) |
| Was? | What? | | Wieso? | Why? |
| Wer? | Who? | | Wieviel? | How much? (mass nouns) |
| Weshalb? | Why? | | Wo? | Where? |
| Wessen? | Whose? | | Woher? | Where from? |
| Weswegen? | Why? | | Wohin? | Where to? |
Nota Bene: WER and WO are false cognates with the English "who" and "where."
Wer

rettet Dornröschen am Ende?
Who saves Sleeping Beauty in the end?

Wo

findet er die wunderschöne Prinzessin?
Where does he find the wondrously beautiful princess?

Cases
Welcher and wer have to be declined if they are in the accusative or dative case.
| | | | |
| --- | --- | --- | --- |
| WELCH- | nominativ | akkusativ | dativ |
| Maskulin | welcher | welchen | (von) welchem |
| Feminin | welche | welche | (von) welcher |
| Neutral | welches | welches | (von) welchem |
| Plural | welche | welche | (von) welchen |
Welches

Märchen hast du am liebsten?
Which fairy tale do you like the best?

Mit welchem

vergifteten Geschenk tötet die Königin Schneewittchen?
Which poisoned gift does the queen kill Snow White with? (or With which ...)
| | | | |
| --- | --- | --- | --- |
| WER | nominativ | akkusativ | dativ |
| Alle Geschlechter | wer | wen | (von) wem |
Dornröschen

Wer

reitet so spät durch Nacht und Wind?
Who is riding so late through night and wind?
der Froschkönig
Warte mal, das ist doch gar kein Grimm-Märchen!
Wait a sec, that's not a Grimm Fairy Tale!
Dornröschen
Sehr gut.

Wen

zitiere ich?
Very good. Who am I quoting?
der Froschkönig
Ach ...

Wer

war das nochmal?!? Warte mal, ich weiß es ... Heidrun!

Von wem

wurde "Der Erlkönig" geschrieben?
Ah ... who was that again?!? Wait a sec, I know this ... Heidrun! Who wrote the poem "The Elf King"? [lit: by whom]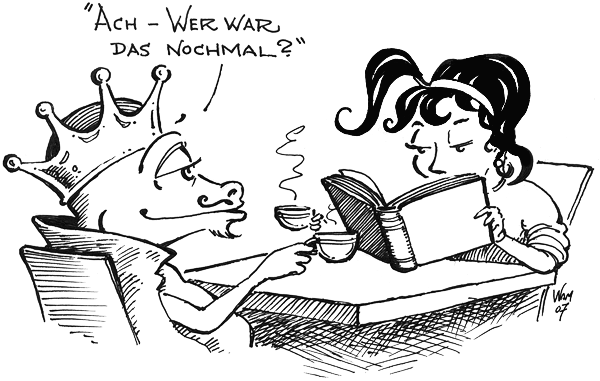 Indirect questions
You can use all the W-question words in indirect questions as well, most often introduced by the following phrases:
| | |
| --- | --- |
| Ich weiß/Ich weiß nicht ... | I know/I don't know ... |
| Ich habe keine Ahnung ... | I have no clue ... |
| Wer weiß ... | Who knows ... |
| Weißt du ... | Do you know ... |
| Ich kann micht nicht erinnern ... | I can't remember ... |
| Ich habe vergessen ... | I forgot ... |
| Sie haben mich gefragt ... | They asked me ... |
| Ich möchte wissen ... | I would like to know ... |
Dornröschen
Ich möchte wissen,

warum

an meinem 15. Geburtstag niemand zu Hause war!
I'd like to know why nobody was at home on my 15th birthday!
(Frage:

Warum

war an meinem 15. Geburtstag niemand zu Hause)
Aschenputtel
Du weißt nicht,

wo

sie alle waren?
You don't know where they all were?
(Frage:

Wo

waren sie alle?)
Dornröschen
Ich frage mich,

wieso

sie nicht wussten, dass ich an diesem Tag verletzt wurde!
I wonder how come they didn't know that I would be hurt that day!
(Frage:

Wieso

wussten sie nicht, dass ich an diesem Tag verletzt wurde?)